Mudroom storage lockers can be a great way to organize and store commonly used items right by the front door or entryway into the house. However, finding one that looks sophisticated and is easy to install is another story.
That's what I like about the Shutter Locker Storage/Organizer. It looks very elegant, yet you don't have to hire a contractor to build it. You can have it shipped directly to you and assemble it yourself.

This decorator furnishing is not only good looking, but it's very functional. Even Martha Stewart is in favor of using lockers for clutter control. It combines all of the storage features that I like:
Double hooks for hanging large coats, purses, hats, etc..
Enclosed drawers to keep miscellaneous or small items neatly out of the way.
Additional overhead storage to make use use of space that is usually neglected.
Hide Stuff in Drawers. It's Easy Cleaning 😉
The shuttered drawers along with the crown molding provide an upscale look that fits in virtually any home decor. Whether you have a traditional home, a beach cottage, a ski cabin, a contemporary style or Mediterranean decor, this custom-looking mudroom locker unit will look great.
Besides being very versatile, the styling makes it timeless. You can use it for many years without worrying about it going out of style. Furthermore, should you decide to ever sell it, you'll find that it holds it's value well.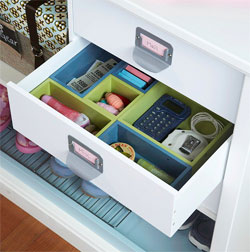 I like having drawers for small items like keys, wallets, phones, electronics, etc.. They can also be a great spot for shoes or slippers too. I love how drawers keep everything hidden so the space looks tidier without any work from me!
Better Homes and Gardens demonstrates how using a drawer organizer can help you fit more items into the space (and of course find them more easily).
When each family member has a spot dedicated to "their stuff", it becomes enormously easier to get people to keep the house clean (if you know what I mean).
Top Shelf Storage Does More than You Think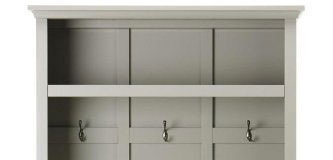 Although it's a great spot to place pictures, books or other home decor pieces, the top storage shelf is more functional than you might first think.
This is not just a place to throw stuff.
The Trick is Adding Some Storage Baskets
I like to get basket "drawers" than can slide in and out of the shelf. Just like the storage drawers at the base of the unit, the baskets can hide hats, sunglasses, gadgets and other gear totally out of sight.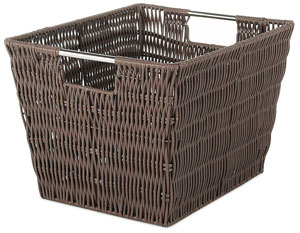 Everyone can be assigned their own basket so there is no confusion as to where to put your stuff or where to look when you need it.
I personally think that woven baskets look more stylish and sophisticated, but ones made with plastic resin can be more durable and less expensive (and often trick the eye!).
Mudroom Storage Dimensions: 74″ Tall x 42″ Wide x 17″ Deep
Even an Ikea locker falls short in style, and most of their wood mudroom storage units are actually higher in price.