Are you looking for an entryway organizer/storage system that has a built-in feel? This all-in-one package may be what you're looking for because its distinctive styling make it look like you had it custom made.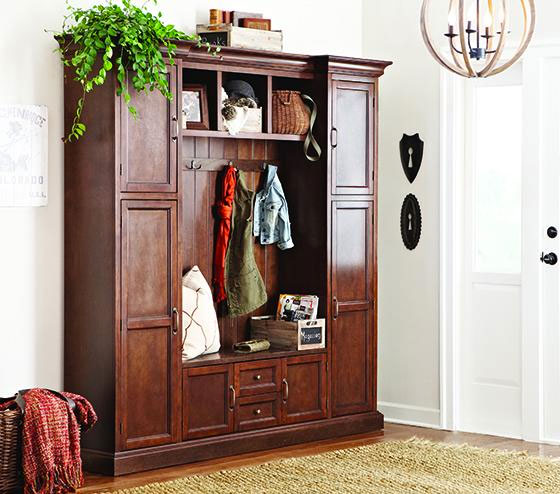 The Features I Like About the All-in-One Mudroom…
You can save a lot of money by not hiring a contractor to build a wall unit, and instead ordering an assemble-yourself mudroom. Most people agree, it looks just as good.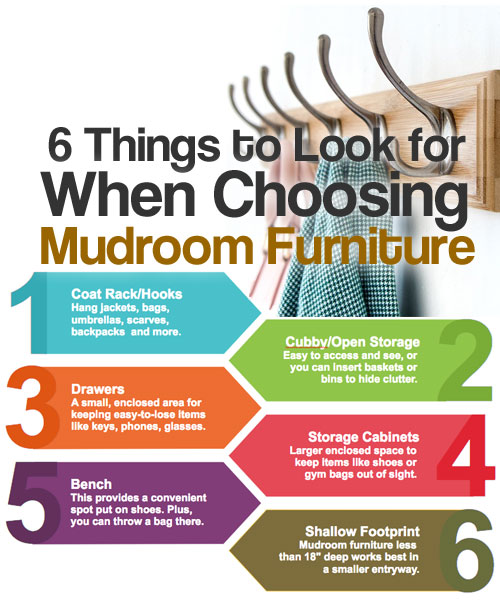 This full wall of cabinetry doesn't just give your front entryway a sophisticated, decorator look. It is fully functional, offering tons of organized storage cabinets, shelves and hooks.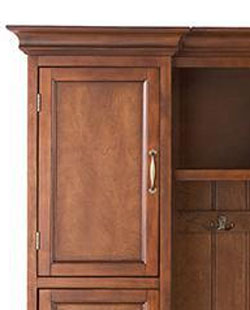 What I really like about this mudroom storage unit is the amount of space it gives you to store items behind closed doors. If you have messy family member, no one has to know.
I also think that this mudroom is a good value because it costs less than it looks. Sure, it looks expensive and custom made due to its crown molding and zinc hardware. However, if you consider how someone might decorate their front entry otherwise, the cost isn't much different.
Here's an example. Instead of buying a wall system, you could get an entryway table with a large piece of art to hang above it. Or a table with a couple of chairs. Or a bench with large potted plants and a wall mirror. You see what I'm saying. Costs add up.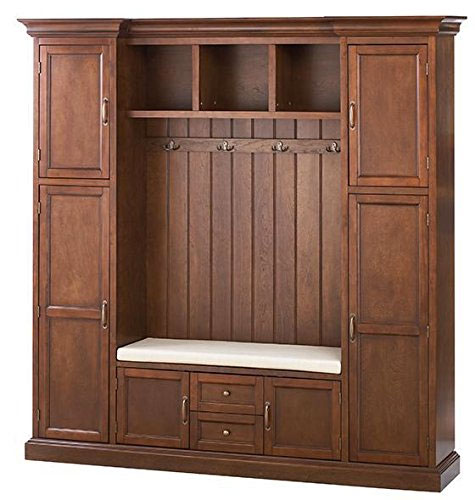 Mudroom Package Includes:
6 cabinet with adjustable interior shelves
3 open cubbies
2 smaller drawers
4 double coat hooks
Bench with fabric seat cushion
Dimensions: 81″ tall x 79″ wide x 17″ deep
What I found even more interesting is comparable product pricing. For example, Pottery Barn sells a 3-piece entryway set with no enclosed cabinets, no crown molding and no drawers that sells for more than what this piece sells for.
What if you purchase multiple pieces from Ikea to build your own of comparable size? You get something that ends up costing about the same, requires more work and doesn't have the styling of this all-in-one mudroom. The package deal sounds so much better simply because there is less room for error.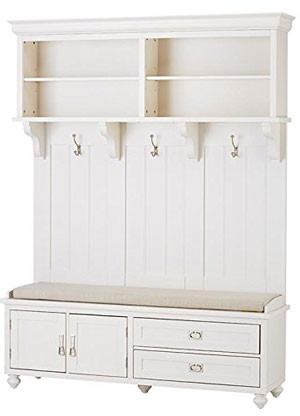 Currently this unit is available in white at Home Depot. Another option is to get the center "portion" of the unit that includes just the upper shelves, coat hooks and lower drawers and cabinets.
It does not come with the side cabinets, which also lowers the price by about $300-400. Keep in mind that this center section is not identical to the complete version.
It has upper shelves instead of 3, 3 coat hooks instead of 4 and the layout of the lower drawers and cabinets is a little different. The mudroom does feature some pretty cool legs, though.