Do you have a small entryway but want a functional piece of furniture where you can store items like keys, purses, shoes, umbrellas and phones? Have you ever considered a bar cart table?
The Winsome Mali Cart offers both hidden and open storage, a spacious tabletop and a convenient hanging rod. Plus, you can roll it around!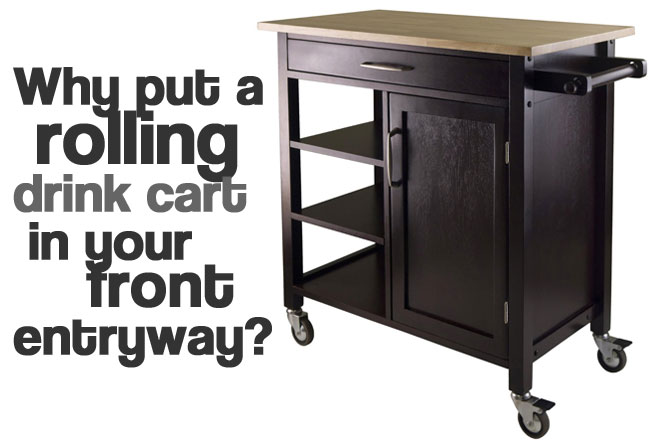 This compact rolling storage cabinet has lots of style. In fact, you could even decorate it with bottle of your favorite liquor on top. Actually, this may the perfect spot for it if you've just come home from a long day at the office… Just saying.
Similar to the potting bench mini mudroom, this creative, fun and unique entryway storage concept costs less than most mudroom lockers. Yes, this cart only costs about $130.
How to Use a Bar Cart for Storage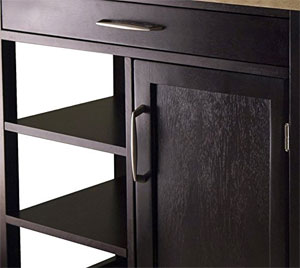 First of all, the 3 shelves work perfectly for storing shoes. Similar to cubbies, these spaces make it easy to access and put away shoes without having to open a door.
Second, the enclosed cabinet can keep hats, bags, more shoes or items that you want to keep out of sight.
Third, the upper drawer makes a great easy-to-find spot for keys, phones, sunglasses and other small gadgets that can tend to get lost.
Fourth, you can use S-hooks on the side hanging rod to hang bags, purses and caps.
Fifth, the large tabletop provides a great space for adding home decor items like photos, flowers, or your favorite beverage. On the other hand, you can leave the space open if you want to use it for a space to throw your bag and keys when you walk in the house.
The Problem with Using a Bar Cart Table as a Mudroom…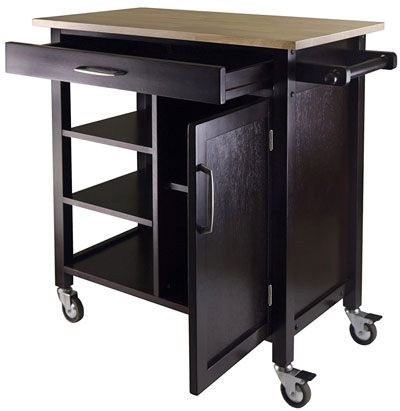 The downside of this idea is that it doesn't have coat hooks for hanging jackets, backpacks, scarves and hats.
People almost always build or buy mudrooms with coat hooks because you can hang so many things on them. Not to mention, where are you going to hang your coat, right?
However, you can easily remedy this situation with a $20 wall coat rack that you can hang directly above your cart (or to the side).
About the Company: Winsome Trading Inc. produces quality lifestyle furniture at an affordable price. They have innovative designs that offer both style and function.
Winsome Mali Bar Cart Table Specs:
Cart Dimensions: 36″ Wide x 18.5″ Deep x 34.6″ Tall
Tabletop Dimensions: 33″ Wide x 18.5″ Deep
Cabinet Opening: 13.5″ Wide x 14.75″ Deep x 22.5″ Tall
Weight: 71 lbs
Material: Solid and Composite Wood
Color: Two-Tone, Beech/Espresso
Assembly Required