This full wall of shelves, cubbies, coat racks and hanging rod is pretty impressive when you look at it. It may not look like a piece of furniture that you could assemble yourself, but it is.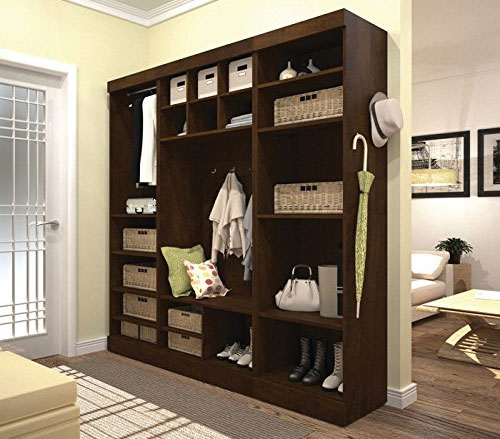 …and by "assemble yourself" I mean you only need a hammer & screwdriver.
I personally enjoy doing my own decorating and minor remodeling projects, but honestly, I don't like work-intensive projects. This one is perfect. Yes, there is some manual labor involved, but when you're done, it looks like you've seriously transformed the room. Totally worth it.
What makes it even better is that this Pur Mudroom Storage Kit is actually 3 separate units. You can move around the parts to customize your storage, placement, plus you can set it up as a single unit or in separate parts.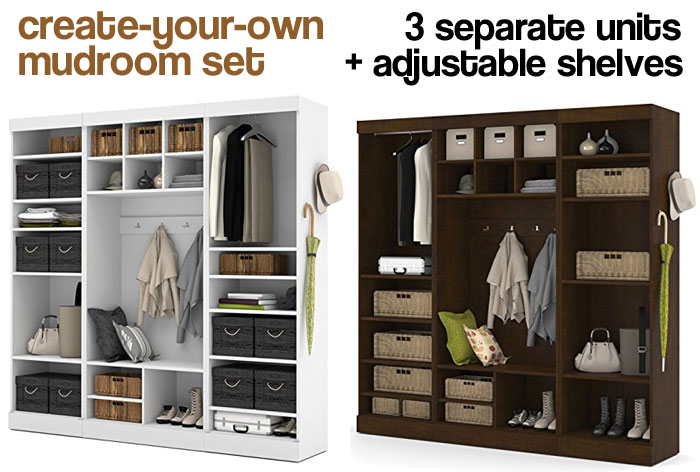 Most Versatile Mudroom Set
As you can see, the 3 tall columns are moveable, and the shelves are adjustable as well. Add mix-and-match baskets or decorator storage boxes that you can use to cleverly hide items while giving your mudroom a designer look.
The Pur Mudroom also features a clothes hanging rod, something you don't usually get in mudrooms. I like this built-in accessory because it enables you hang nicer jackets on a hanger rather than coat hooks. Save the hooks for your scarves, hooded sweatshirts and hats.
Since this wall unit is so spacious, it works perfectly for a large family. On the other hand, you can use some shelves to display personal items such as photographs, plants or other home decor pieces.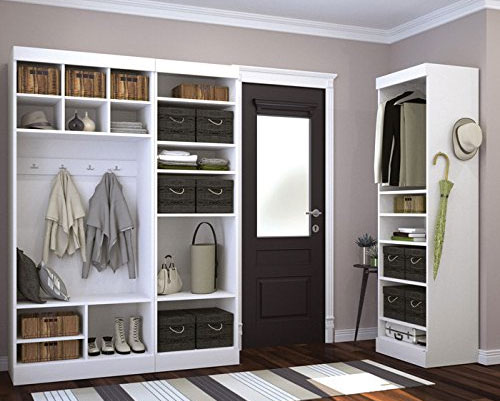 However, if you don't have a large wall that can accommodate such a large furnishing, don't worry. Simply move it to different walls! You could even divide the sections to use in different rooms if you wanted.
With that in mind, don't forget guest rooms, home offices, lofts, studios, large walk-in closets or additional hallway storage.
The Pur Mudroom Set can be used pretty much anywhere, and I've found it to be an easy way to dress up a space without having any decorating skills. I need all the help I can get! =)
It comes in both brown and white laminated particle board, which is not only sturdy but easy to clean. By the way, a cleaning tool that I've started using around the house (especially effective for dust on shelves) is a microfiber mitt. These are cheap, washable and re-usable and great for attracting dust like a magnet.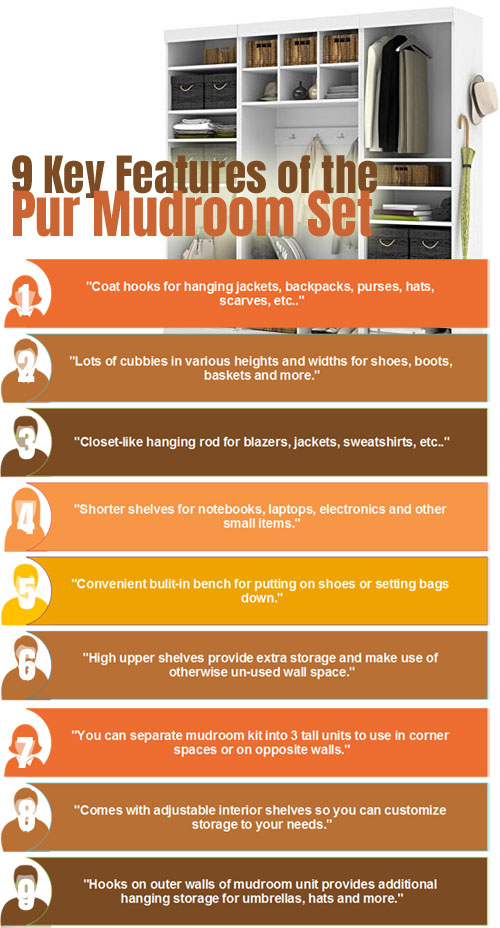 Designer Tip: If you want to go the extra step and add crown molding to the top and bottom, you can achieve that custom built-in look for very little money.
Mudroom Kit Dimensions:
Fully Assembled: 83.7″ high x 96.4″ wide x 18.2″ deep
2 Outer Units: 83.7″ high x 25″ wide x 18.2″ deep
Coat Rack Unit: 83.7″ high x 35.8″ wide x 18.2″ deep