Let's say that you don't need an entire wall of cubbies, but you do want a neat and easy way to store items by the front door. The Sauder Harbor View Bin Bookcase has a conveniently compact size, yet it can store lots of things.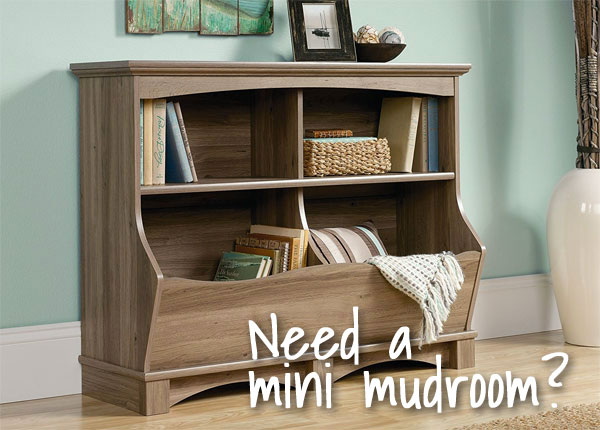 Although not designed specifically to act as an entryway storage furnishing, the dimensions and size can make it the perfect fit for the right person. At only 15.5″ deep, this mini bookcase can easily fit in a small entry.
I especially like the open angled bottom cubbies. They make the perfect spot for quickly tossing in shoes, bags and other gear when you are in a rush.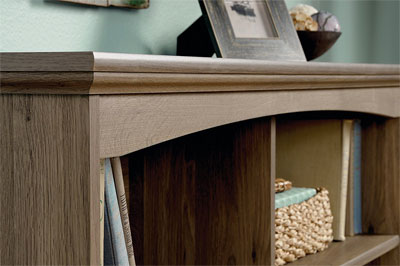 In addition, the top of the bin bookcase provides even more usable space. I'd add a nice basket for keys, wallets, sunglasses and other small items. This way, they don't lost or squished by larger things in the lower cubbies.
Actually, you can add slide-out canvas bins or baskets in the upper shelves too. This is a simple way to create concealed storage and hide any clutter.
The drawback is that you can't hang coats, hats and backpacks from it. However, you can easily solve this problem with an inexpensive cubby shelf.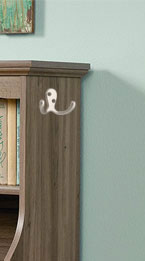 On the other hand, you could attach coat hooks on the sides of the bookcase for hanging bags and backpacks. This gives you extra storage space without necessarily needing to purchase an upper hook-and-cubby unit.
Sauder Harbor View Bin Bookcase Specs:
Dimensions: 43.1″ wide x 33.5″ tall x 15.5″ deep
Weight: 78 lbs
Finish Colors: salted Oak or Soft White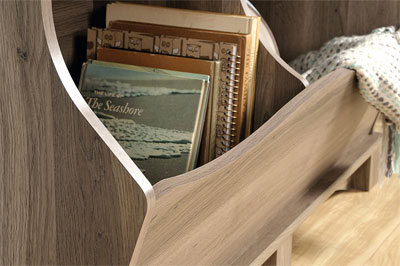 I like the Sauder Harbor View collection because of the attention to detail.
Their pieces include a subtle curvature without being too ornate. They are also finished in neutral colors that can match virtually any home decor.
In addition, they also have a casual, beach cottage appeal. In fact, many items in this collection include shuttered cabinet doors.