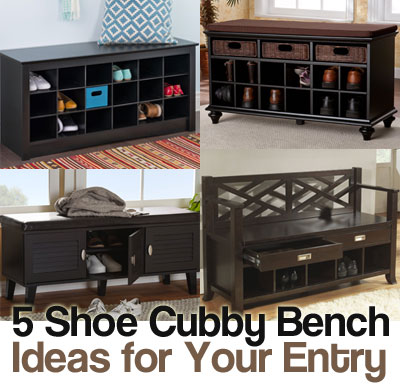 Taking your shoes off when you enter the house is a great way to keep the house cleaner. But then what?
Do you just leave the front entryway a mess with a pile of shoes?
No. You get a shoe cubby bench, or some sort of foyer bench with shoe storage.
I've listed 5 interesting ideas below for organizing your shoes neatly and out-of-the-way. They all can be used as an entryway bench, so you have place to sit while putting on your shoes.
1. Prepac Shoe Cubby Bench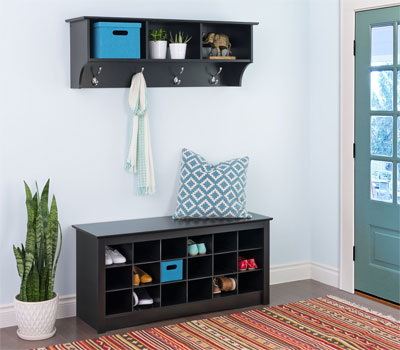 The Prepac Entryway Shoe Organizer is simple and gets the job done. Nothing fancy, and it is priced at under $150. It comes in 3 different colors: black, espresso and white.
It's made of durable laminated composite wood, which is easy to clean and care for. Its basic styling enables you to use it alongside any home decor.
Maybe the best part is that it fits 18 pairs of shoes. That's plenty for family and guests with room leftover for other small miscellaneous items like keys, sunglasses or cell phones.
The bench does not come with the matching wall cubby/coat rack, but you can purchase it separately.
Dimensions: 48″ wide x 24″ high x 16″ deep
2. Chelmsford Entryway Shoe Storage Bench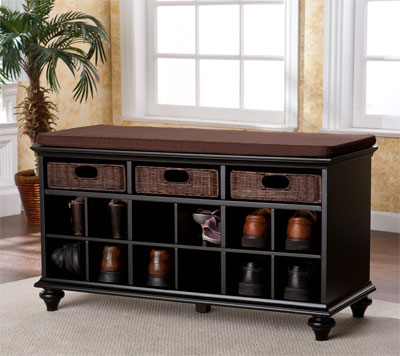 The Chelmsford Bench has a similar design, except it features 12 shoe storage slots and 3 rattan basket drawers.
If you have less shoes and would prefer the basket drawers to keep other items out-of-sight, this bench is a nice combo.
It is almost a foot shorter than the model above, which can be good or bad. If you have a smaller entryway, this will be easier to fit.
If you have more shoes or want a longer bench, the Prepac will be better, well, except that the Prepac doesn't come with a cushion.
You also get 3 color options: black, espresso and white.
Dimensions: 38″ wide x 21.75″ high x 16.25″ deep
3. Sheffield Contemporary Shoe Cabinet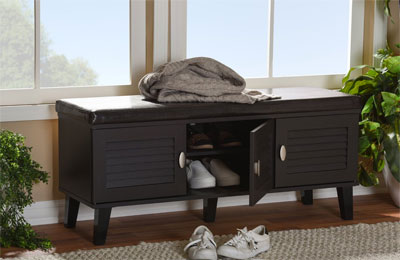 The Sheffield Shoe Cabinet keeps everything neatly out of sight. That said, there is less space for "everything". There are only 6 shoe cubbies.
Although if you are creative, you may be able to fit more than one pair of shoes per cubby. I have plenty of flip-lips, so this is easy for me.
This dark brown shoe organizer features silver hardware and a faux leather cushioned seat. It can add a sophisticated look to the front entry without costing a lot of money. It costs less than $150.
I particularly like the designer legs on this furnishing. It adds a nice touch that, along with the louvered cabinet doors, make this bench not look like a shoe cubby.
Since it does not have that shoe cubby look, this is a great bench to use at the foot of a bed or even an ottoman. Think outside the box!
Dimensions: 44″ wide x 19.25″ high x 14.5″ deep
4. Sea Mills Entryway Bench with Cubbies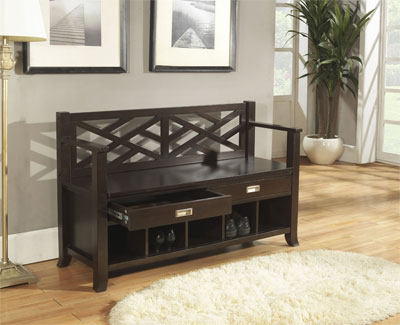 The Sea Mills Entryway Bench looks more like a piece of furniture than a shoe cubby. In fact, you might not even notice the shoes.
This hand-crafted and hand-finished wood bench has a stately look and looks great in a more formal entryway. If you want a mudroom bench cleverly disguised as an elegant piece of furniture, I think you've found it.
The 2 under-seat drawers are a nice bonus if you need additional hidden storage space. There are only 5 cubbies, but they are larger and can accommodate more than 1 pair of shoes each (depending on the size of your shoes).
5. Sole Secret Shoe Storage Ottoman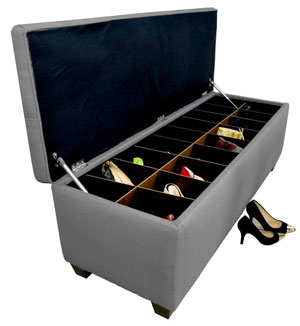 The Sole Secret Shoe Storage Ottoman looks nothing like a shoe cubby bench, yet it can organize 12-14 pairs of shoes inside.
I like this upholstered, tufted ottoman because it is not only good-looking, but it is versatile. The dividers can be removed, so you can store other items inside as well. Not just shoes.
It is also significantly longer than other benches (more than 4 feet), so make sure it can fit in your front entry. And yes, it does cost more for the higher-quality materials, construction and elegant design (about $300), but it can double as a bed for small children.
Dimensions: 50″ wide x 20″ high x 18″ deep