Do you need mudroom storage, but you don't want a generic-looking cubby or shelving unit? I've got an interesting idea for you…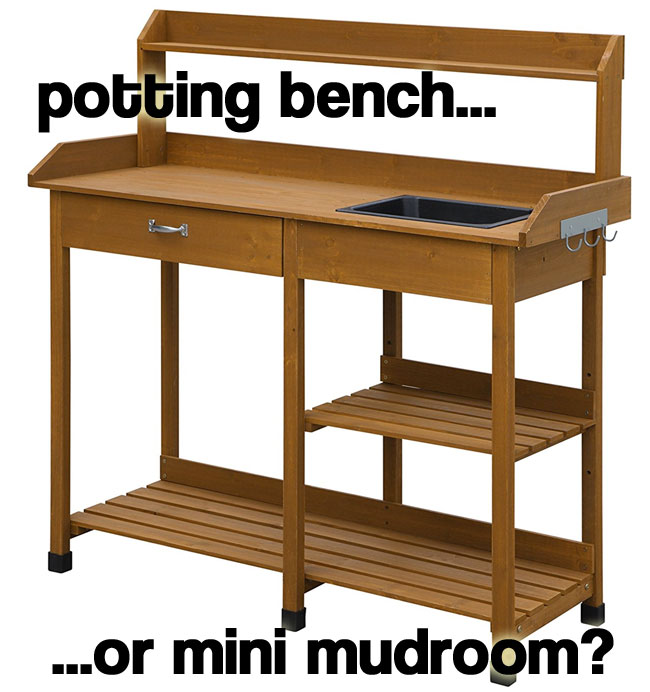 It's a crafty-looking potting bench that you buy and simply assemble. It only costs about $100, and it provides a good amount of storage space.
Better than that, though, is that it looks really cool. A potting bench makes a very unique mini mudroom storage area that is super functional and ultra sturdy yet stylish at the same time. In fact, some people might ask you if you built this one-of-a-kind mudroom yourself.
Convenient Storage Features:
1. Out-of-the-Way Hooks for Hanging Stuff
As you can see, the bench includes several "mudroom-like" features. For example, it has hooks for hanging items like purses, backpacks, hats, scarves, umbrellas and more. Plus, it includes multiple shelves at various heights.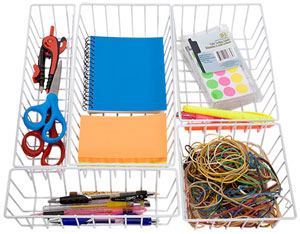 2. Enclosed Drawer Where You Can Organize Small Items
This unit also has a large drawer for smaller items that you want to keep in a safe spot.
Think phones, wallet, sunglasses, electronics, etc.. In fact, you might want to get an drawer organizers from your local Dollar Store (cheap!).
3. Convenient "Bin" Sink for Throwing Stuff
The sink can act as a bin or basket, providing yet another storage area. It works well for small items that you also want to have conveniently accessible. Of course, you could always stick a green decorative plant there to keep with the "gardening" theme.
4. Handy Working Surface
The larger worktop surface also adds unique functionality to this "mini mudroom" because you can use it as a temporary workspace. For instance, if you need to write a note to a family member as you are running out the door. Or, stick stamps on a letter, write a check, etc..
5. Unique Display Area
The upper half-shelf is perfect for displaying photos, artwork or maybe even small plants. It may not be big enough to do much else. However, it gives you an easy way to customize your mini mudroom potting bench.
But I Don't Want Open Shelving…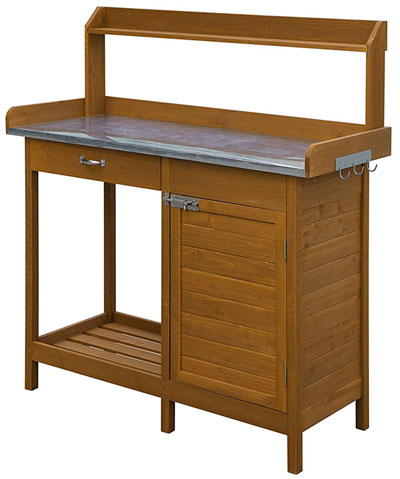 Although I love this potting bench mudroom idea, it does have the disadvantage of open shelving.
There's no hiding your messes, except in the drawer. I'm not saying you're messy or anything.
Anyway, the good news is that you can get this unit with a closed cabinet instead of the open shelves. You won't get the sink, but you may not want one anyway.
Now, if I've just made your decision more difficult, I'm sorry about that.
Mini Mudroom Potting Bench Specs:
Dimensions: approximately 46″ tall x 48″ wide x 18″ deep
Weight: 28 lbs
Finish Options: Natural Fir or Light Oak
About the Company: Convenience Concepts Furniture
Of course, this rugged, industrial-style furnishing is not for everyone. If you enjoy gardening, the outdoors or not-so-finished-looking furniture, I think this will be right up your alley. And you don't even have to be a gardener to love it!