Better Homes and Gardens makes a weathered cube organizer that is simultaneously upscale yet inexpensive. The secret lies in the MDF construction (see below).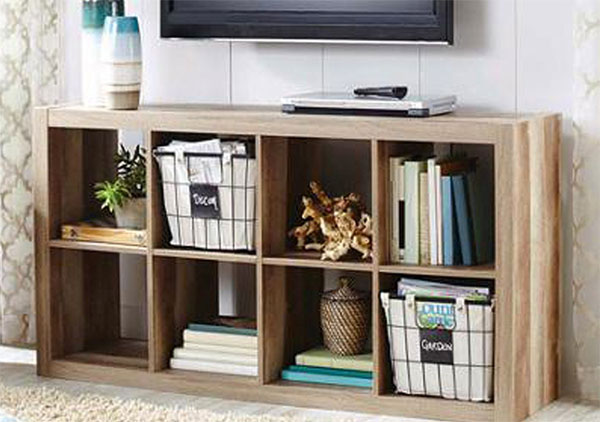 Overall, I like this 8-Cube Organizer because it offers lots of versatility for a price under $100.
1. Stand it Up or Lay it Down
First of all, you can stand it up lengthwise or you can lay it on its side. Within seconds, you can transform this piece of furniture from a bookshelf to a credenza.
When laid on its side, the organizer provides lots of tabletop space that you can use for additional storage or display. Alternatively, when positioned upright, you can drill coat hooks into the sides to create a place to hang coats, purses hats and more.
2. Use Drawers… or Not
Secondly, the open cubbies easily fit standard-sized fabric storage "drawers" that you can use to conceal the cubby contents. These makeshift drawers cost very little, yet they can add a shabby-chic look to an otherwise plain-looking organizer.
3. Works with Virtually Any Decor
You've probably noticed the growing trend in weathered wood furniture. This designer style works well with modern farmhouse interiors, beach cottage style plus modern or contemporary homes.
In fact, the basic design of this shelving unit give it the ability to stay in style for years to come. That's the third reason I think it's so versatile.
By the way, I think that the weathered wood-look laminate exterior gives these cubby shelves an extra level of style. It looks realistic, yet has a price significantly lower than real wood cabinetry.
Potential Drawbacks to this Cubby Organizer
No drawers come with unit. If you want the fabric slide-out drawers, you need to purchase them separately.
The unit is not made of real wood.
It requires assembly.
Advantages & Disadvantages of MDF-Built Furniture:
The weathered cube organizer is built using MDF (Medium Density Fiberboard) and particle board. Furniture manufacturers typically use MDF because of its low cost and high durability. Compared to traditional woods, the material is easy to work with, plus it provides a great base for paint, veneer or laminate.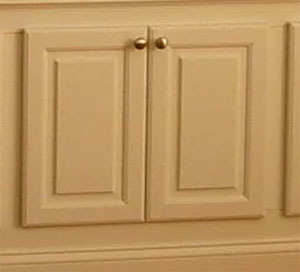 MDF enables manufacturers to build strong, long-lasting furniture cost-effectively. Consequently, they can pass the savings on to consumers who can benefit from getting stylish pieces at affordable prices. In fact, many home furnishings use MDF.
Some people don't like the fact that MDF weighs more, and therefore tends to be more cumbersome to move. That said, if you don't plan on moving it after assembled, a heavier, sturdier shelving unit has its advantages.
Tip: If you buy furnishings made with MDF, make sure they are sealed or have a laminate surface. This protects the material from water or moisture. By the way, the weathered cube organizer is laminated.
Weathered Cube Organizer Specs:
Dimensions: 57.8″ Long x 30.9″ Wide x 15.4″ Deep
Weight: Approximately 90 lbs
Material: MDF and Particle Board
Model #: BH14-084-099-02
Brand: Better Homes & Gardens