Need a lot of cubby storage in a small amount of space? This cubby bookcase has 8 large cubbies, but they measure less than 13 inches deep. Therefore, it doesn't take up a lot of valuable floor space in a small entryway.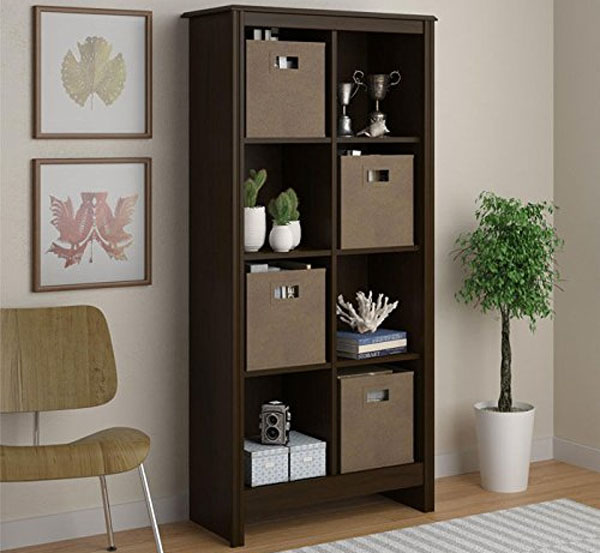 In fact, this compact bookcase is designed to work in hallways too. Now you can create usable storage space in areas of your home that you might never have considered.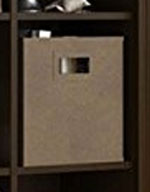 In addition, this package includes 4 slide-out storage baskets to store lots of different items. They provide a clever way of concealing clutter while keeping important items easily accessible.
Because of these clutter-hiding storage baskets, you can actually use this cubby bookcase as a display cabinet too. For example, place personal items like cell phones, purses, sunglasses, hats and other gadgets in the baskets. Then, add decorative items, plants, framed photos or books in the open cubbies.
How to Create Even More Cubby Storage…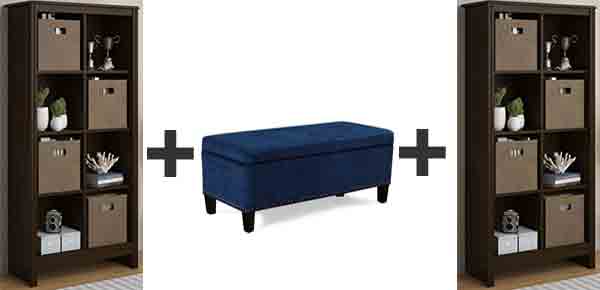 You can create even more storage by taking 2 of these bookcases and placing a bench in between them. You can double your wall storage space while taking up very little floor space. Plus, the bench adds a place to sit and more of a customized mudroom look.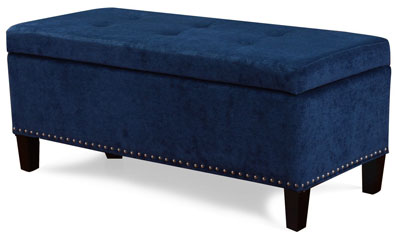 Due to the fact that both bookcases match, your bench can be a completely different color or style. Take a blue tufted ottoman bench, for example.
Add a burst of color and create a designer look – not to mention additional storage! For this entire mudroom arrangement, the entire cost only comes to about $360. Not bad for the amount of storage you get, and the custom decorator look. (By the way, the storage bench comes in multiple colors).
Cubby Bookcase Specs:
Dimensions: 5′ Tall x 27.5″ wide x 12.5″ deep
Weight:
Material: MDF, Particle Board
Color: Resort Cherry Finish
Max Weight Capacity: 15 lbs per Shelf
Assembly Required
Model #: 7648207P
Altra/Ameriwood Furniture makes ready-to-assemble furniture that is both functional and affordable. They provide a wide range of furniture styles and collections, from modern chic to rustic industrial.